"Mistrial declared in Rockbridge County gas station explosion case"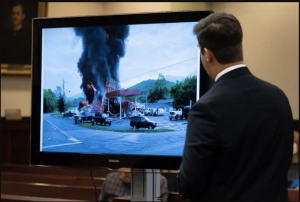 Roanoke Times, September 13, 2022
LEXINGTON — A Rockbridge Circuit judge declared a mistrial Tuesday in the case of the Roanoke man accused of causing the 2019 Buena Vista gas station explosion that killed four people.
Phillip Ray Westmoreland, 53, delivered fuel to the South River Market shortly before it exploded on May 10, 2019. He was charged with four counts of involuntary manslaughter for the deaths of three store employees — including the owner — and one patron.
Westmoreland's jury trial, which lasted about two weeks, was held last month. The commonwealth called over 30 witnesses, while the defense called just two experts to testify.
Judge Christopher Russell dismissed the jurors and announced plans to schedule a hearing to discuss a motion filed by Westmoreland's lawyer, Rob Dean, to have the manslaughter charges dismissed.
###
https://roanoke.com/news/local/crime-and-courts/mistrial-declared-in-rockbridge-county-gas-station-explosion-case/article_c243dfc2-337b-11ed-a767-6b6300f78d46.html#tncms-source=login